Screen image of the main program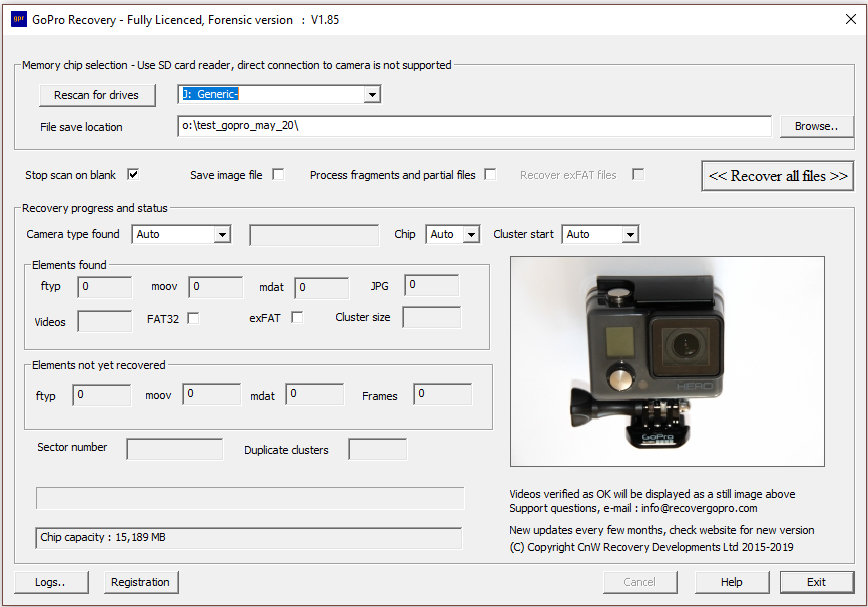 Stage one of recovery.

Select the memory card - in the example above it is seen as the I: drive and a Generic memory chip. The capacity is shown in the status box at the bottom of the screen. The example here is an old 16GB chip
Select where you want to save the files - the example shows a directory on the O: drive


Stage two

Press <<Recover all files>>


Stage three

The program now goes through 5 stages of internal recovery. It starts by scanning the memory chip for all frames. Then extracts any .jpg and .wav files. Once the program reaches stage 4 and 5 of the scan thumbnails of working videos will be displayed. NB The demo will displaythumbnails but not save playable files. Depending on the chip size, the process can take a few hours - so messages are displayed to indicate progress. The log will display the status of each recovery, file size and date.

The log screen shows files that are
recovered
. It gives size, date and also frame details. It also shows how fragmented the file is - for instance recover_3.mp4 has 123 fragments. The status and verify are checked for MP4 and LRV files, but not for the .wav files.
Testimonials
show how successful the program is, often where other programs have failed.


Other
drone
cameras supported

● Recover DJI Inspire 1
● Recover DJI Matrice 210
● Recover DJI Mavic 2 Enterprise
● Recover DJI Mavic Pro
● Recover DJI Phantom 3
● Recover DJI Phantom 4
● Recover DJI Spark
● Recover Yuneec Typhoon H


Canon cameras supported

● Canon XA20
● Canon X25
● Canon EOS
● Canon Legria HF G30
● Canon Powershot SX600
● Canon Vixia

Manual

A copy of the user
manual in a PDF
format can be viewed here.


Support

Occasionally extra support will be required to run the program. This is always done via e-mail (
info@goprorecovery.co.uk
) . There should always be a response within 12-24 hours. Obviously it depends to some extend on time zones. If it is necessary to send sample videos, or images of the memory chip, CnW has an
FTP
site where we can create user accounts.


Disk drive recovery

For recovery from corrupted or deleted hard drives use
CnW Recovery
software